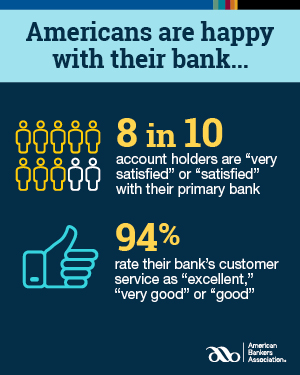 Eighty-four percent of Americans are "very satisfied" or "satisfied" with their primary bank, and 94% rate their bank's customer service as "excellent," "very good" or "good," according to a new Morning Consult survey. The poll, conducted for the American Bankers Association, also measured consumers' views on issues including access to banking services, overdraft protection and cannabis banking.
"This new survey shows that Americans remain happy with their bank and its ability to meet their evolving financial needs," said ABA President and CEO Rob Nichols. "The results also speak to the highly competitive financial services marketplace, which ensures that consumers can pick and choose the banking products and services they want from a wide array of providers."
Seventy-nine percent said banks' innovation and tech improvements make it easier for everyone to access financial services. Eight in 10 (79%) reported having multiple options when selecting products and services such as bank accounts, loans and credit cards, and 76% said they have a wide array of choices when deciding where to bank. Three in four consumers (73%) said the financial services industry is highly competitive, and eight in 10 (78%) said their bank is transparent about fees.
A strong majority of survey respondents agreed that additional regulatory requirements on banks could do more harm than good given the current state of the economy. By a three-to-one margin, consumers said it's not time for additional regulatory requirements that would restrict bank lending. For the fourth year in a row, a significant majority (88%) found overdraft protection valuable. Sixty-three percent said it's reasonable for banks to charge overdraft fees, compared to 24% who think it's unreasonable. According to the survey, 55% of consumers support (while 23% oppose) Congress passing legislation allowing cannabis businesses to access banking services.